About Susan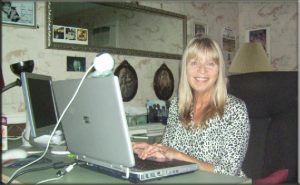 Welcome, Susan Evans would like to share with you all her new Chairobics Sit to be fit video. So sit back relax while she tells you a little about herself.
Starting dance, ballet and swimming during my grade school years gave me my base for realizing how to keep my body fit and strong through repetitive exercises. In the late 80's I was diagnosed with MS a degenerative, neuro-muscular disease.
I was unable to walk, talk or even control some bodily functions.

While spending time in the Cleveland Clinic Ohio for this, I realized that I could and should formulate a sit down exercise program to help myself and others strengthen our muscles and improve the quality of our lives.
Meanwhile, getting myself stronger through exercising I thought what a great idea to share with others who have MS, an excellent way to build their muscles up while sitting down in their chair.
At that time I made some contacts with my Church, the MS Society in Cleveland Ohio. I invited a group of people with MS to exercise with me.
After many classes I realized that this program will also benefit others.
Now, through this video and Chairobics Live on the internet I am able to reach millions of people who will use this video to help improve the quality of their lives.
From that, the Chairobics™ idea was born in 1988.
The class objectives are:
To increase cardiovascular strength
Increase overall strength of major and minor muscle groups
Improve and increase endurance
Improve and increase endurance
Improve self-esteem
Improve mental clarity
Improve overall strength
Vision
When physically challenged people exercise their muscles for 25 – 40 – 60 minutes three times a week they could improve the strength of their muscles and the quality of their lives.
Our Community
Chairobics is taught to a group of individuals three time a week for a maximum effect. I would like to help improve the quality of life at local communities in Pinellas County, Florida.
We can all benefit from Chairobics by working out weekly. I would like to propose teaching Chairobics Sit Down Exercise Program to those who want to join in the lessons. Please contact us for a meeting to discuss the Chairobics Program.
2012 Presidential Election Women for Mitt Romney Event
During the Romney's' visit to the Largo Cultural Center in Largo, FL I met with and had a nice visit with Mrs. Romney where we discussed the Realities of having MS. Mrs. Romney is an active woman so I gave her one of my Chairobics Exercise  DVD's.
Mrs. Romney was so impressed and couldn't wait to use my exercise video.
It was so nice for Ann to respond to me as she did with this lovely letter . I look forward in the future to respond with Mrs. Romney again. We both realize how important it is to exercise as we age. Chairobics is the perfect sit down exercise program for everyone.
We would have all loved to see Mrs., Romney as our 1st Lady back in 2012.  Thank you Mrs. Romney for the kind letter.

Gratitude's


I cannot give enough thanks to my best friend, Director and Producer Anthony Cioci who is also the founder of Rapid Response PERS. His unending work during the past year has produced my Chairobics Home Edition Volume 1 DVD with talent and expertise.
I want to give special thanks to Kathleen Carmen, who helped launch Chairobics back in the day, in Cleveland, Ohio 1988, last but not least I want to thank all my friends who have waited so patiently for me to produce something for them to workout with.